4 Selection Buttons
Solid State Controller Board
LED Read-out
Pause Button
Metered Vending for Accurate Measurement
MDB Coin Mechanism
Fully Illuminated Front Panel
Stainless Steel Dispensing Area
Pre-sediment and Carbon Filter
Long Life Reverse Osmosis Membrane
45 Gallon Storage Tank
U.V. Temperature Flush
5 GPM U.V. Light
Built in Drain Pump
Debit Card/Credit Card
Security Systems
Dollar Bill Changer
Clear Lexan® Panel for Private Labeling
Foreign Power Conversions
Auxiliary Water Kit
Supermarkets
C-Stores
Health Food Stores
Water Stores
Drug Stores
110 VAC Grounded
60 HZ 15 A
GFCI Protected
Fully Illuminated Front Panel
Compact Size for Any Location
10 Inch Carbon Polishing Filter
5 GPM U.V. Light
Built in Drain Pump
Water Meter
Stainless Steel Dispensing Area
Stainless Steel Kick Plate
Durable Polyurethane Finish
Energy Efficient LED Lighting
Supermarkets
C-Stores
Health Food Stores
Water Stores
Drug Stores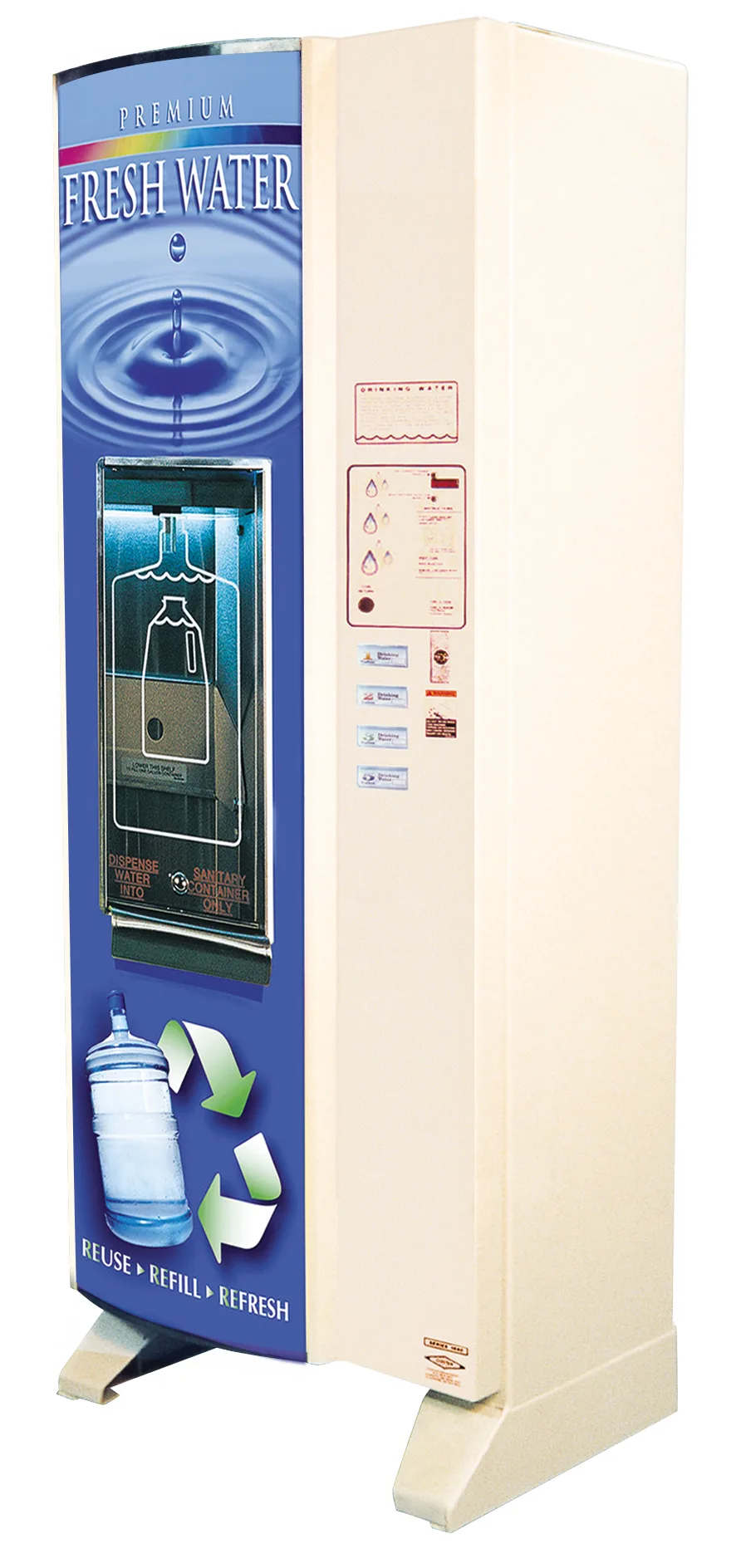 Dual Dispenser
Accommodates 1 through 5 gallon containers, including 5 gallon insulated containers.
Automatic shut off on occurrence of an internal leak. (Charging and vending)
Shut down when the feed pressure drops too low. (Pressure pump unit only)
Preset starting volumes, 1 & 5 gallons. (All volumes field adjustable) with stop button.
Automatic shut off when the ultraviolet lamp fails.
Removable drain tank for ease of service.
Adjustable legs.
Small cabinet size.
Ease of component access and repair.
Auxiliary water port—Mister System
Auxiliary water meter
Supermarkets
C-Stores
Health Food Stores
Water Stores
Drug Stores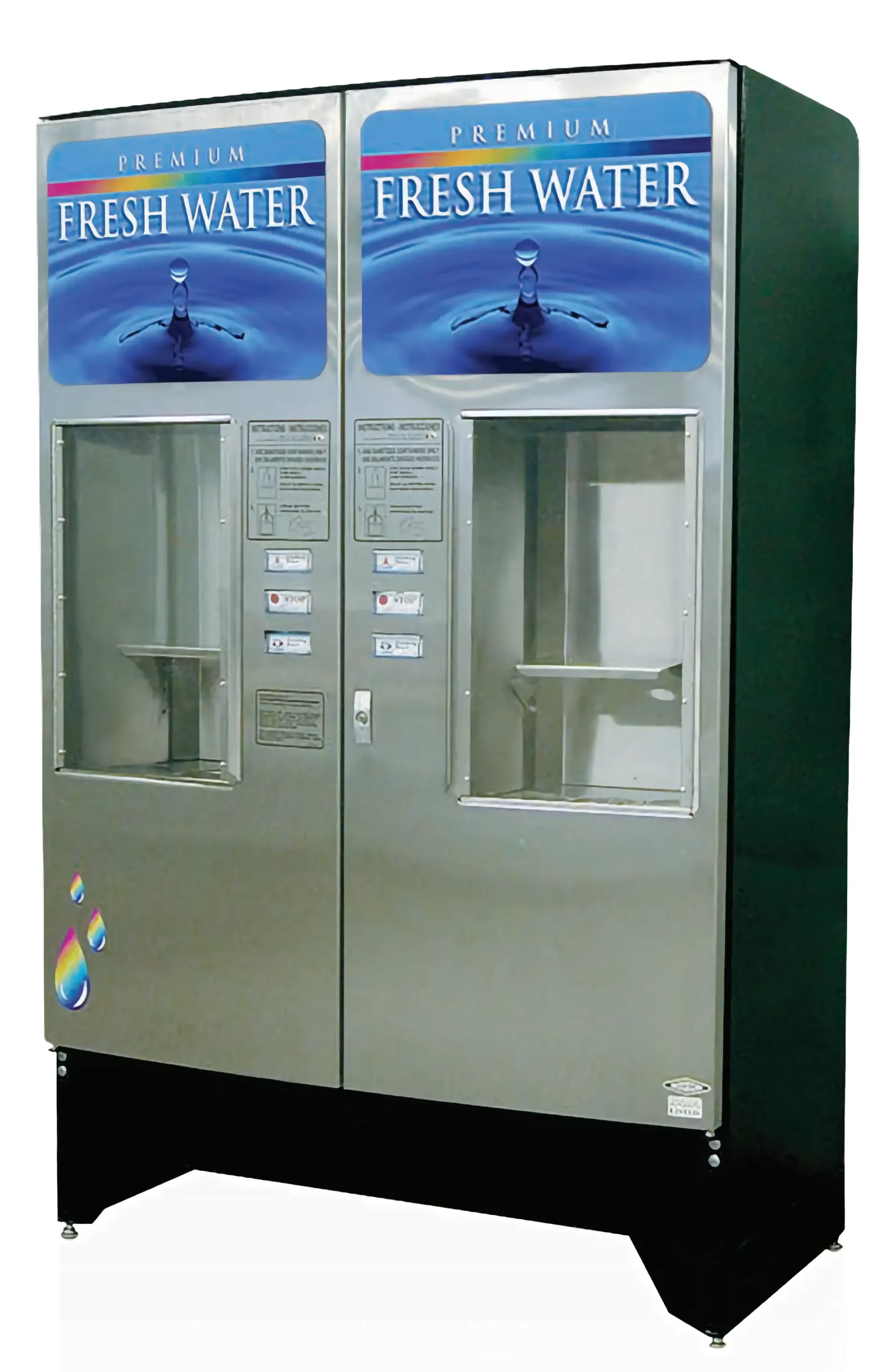 Product Water Dispensing Pressure

450 lbs. (Bulk Water Units)
585 lbs. (Pressure Pump Units)

100-125 PSI Maximum
(Pressure Pump Units)

½ inch FNPT (Feed)
½ inch FNPT (Drain)
*

Approximate initial product flow based on properly pretreated feed water of 1000 ppm TDS (As NACI), 20° C (68° F) and silt density less than 3.
Coster water machines provide top quality water and a top quality compliment to any store. With over 30 years providing water filtration services, Coster machines have a proven track record of dependability and success in the marketplace.
Coster Engineering vending units are ideal for business owners looking for a way to bring in extra passive income and provide their customers the service of fresh, healthful water.
Two stages of water filtration include:
1. Carbon filtration 2. Ultraviolet sterilization
Fully illuminated front panel
Lit stainless steel dispensing chamber with a sturdy fold down shelf
Filing station that will accommodate containers ranging in size from 1 to 5 gallons
MDB interface W/DEX capabilities
Pressurized drainage system that allows waste to be pumped away from the machine location
Automatic UV Flush
4 Separate Selection Buttons
Volumetric Metering System
Ozone Lamp Kit
Anti-Theft Guard Strip
Vending Cabinet External Lock Kit
Bottle Sensor Kit
Supermarkets
C-Stores
Health Food Stores
Water Stores
Drug Stores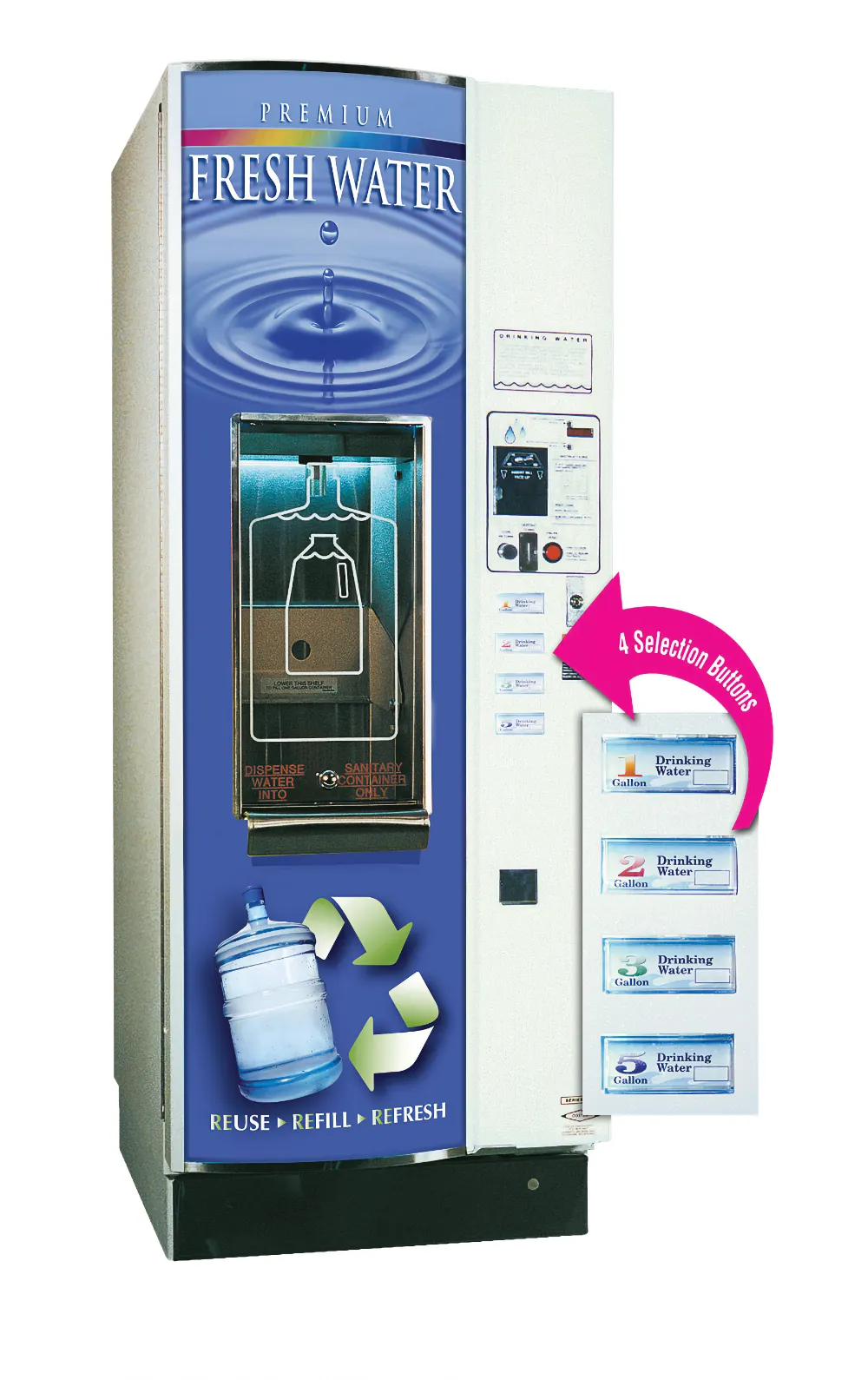 110 VAC Grounded
60 HZ 15 A
GFCI Protected